Calendar
Event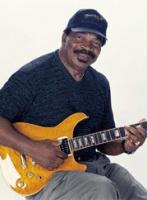 Title:

MATT "GUITAR" MURPHY & THE SHABOO ALL STARS! Opening, LUCY BONILLA!

When:

07.10.2010 - 07.10.2010

Category:
Description
Doors open at 7:00PM, show starts at 8:00PM
Matt Murphy played with Howlin' Wolf in 1948; harpist Little Junior Parker was also in the band at the time. By 1952, Murphy was in Chicago, where he began his long association with Memphis Slim by playing on his dates for United Records and Vee-Jay Records, including the album, At The Gate of Horn (1959). Murphy did not have a band of his own until 1982, but played with many famous bands. Among them:
Howlin' Wolf

Little Junior Parker

Ike Turner

Memphis Slim

James Cotton

Otis Rush

Etta James

Sonny Boy Williamson II

Chuck Berry

Joe Louis Walker

The Blues Brothers
Murphy played with some of these bands for many years, while others were sessions during his work at Chess Records. Murphy can be seen in the films The Blues Brothers and Blues Brothers 2000, where he plays Aretha Franklin's hen-pecked husband. Work thereafter with The Blues Brothers turned him into one of the best-known blues guitarists in the United States. Murphy's signature model guitar is manufactured by Cort Guitars.
Shaboo All Stars: Thirty years ago, David Foster operated the legendary Shaboo Night Club in Willimantic, CT, a former textile factory transformed into one of the hottest night spots for music in all of New England. At the Shaboo, Foster produced over 3,000 major concerts, playing host to such national acts as James Cotton, James Montgomery, Bonnie Raitt, and NRBQ. In 1980, Foster assembled a group of talented musicians who had made earlier stops at his club to form David Foster and the Shaboo All-Stars. Foster and his band went on to become one of the best known bands in Connecticut during the next twenty years.
Lucy Bonilla: With larger than life vocals packed into a diminutive package, Brooklyn native, she has the world wondering, "Where does she fit all that voice?!" Lucy played the Palace Theatre in May, 2010, prompting Artistic Director, Stephen Snow to say, "Her voice is as powerful as Janice Joplin's, but more beautiful!" Simply calling her a powerhouse doesn't do her justice. Her raw energy on stage and passionate vocals defy definition. Her shows leave you feeling fired up and ready for more.