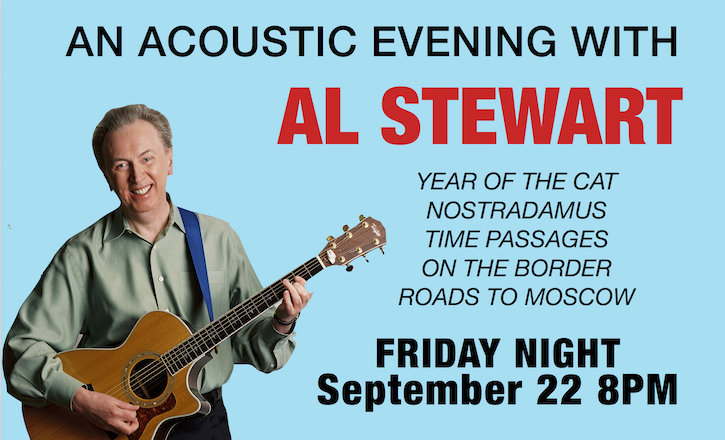 Friday September 22 @8:00PM


Join us for a very special evening of songs and stories with Al Stewart.
Al Stewart came to stardom as part of the folk revival of the late 60's and 70's, and developed his own distinctive style of combining folk-rock music with delicately woven tales of the great characters and events of history.
"This venerable singer/songwriter is still doing what he does best, and clearly his best is as good as ever."  ~ Miami Herald


The Scottish singer-songwriter, who grew up in England, left school at 16 to play guitar. By the time he was 22,  Stewart had met the Beatles and played John Lennon's guitar, opened for the Rolling Stones, shared an apartment with Simon & Garfunkel, recorded with Jimmy Page, spent a year playing guitar for Yoko Ono and co-producing her film # Four, and put a young Cat Stevens on stage at Les Cousins where he was master of ceremonies.

Al continues to tour extensively throughout the United States and Europe, providing his fans with the music and personality that they have come to love.
RESERVED SEATING ONLY
EARLYBIRD PRICING
Premium Seating $40 (Plus $3 Ticketing Fee)
Regular Seating  $35 (Plus $3 Ticketing Fee)
DAY OF SHOW PRICING
Premium Seating $49 (Plus $3 Ticketing Fee)
Regular Seating  $39 (Plus $3 Ticketing Fee)
Questions? Call the Box Office at 203-794-9944